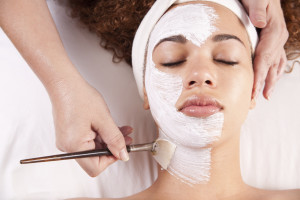 Kinetix Center has an experienced & knowledgeable Aesthetician on staff offering full service facials, waxing, and consulting on makeup and skin care for our customers.
Facials
Deluxe European Facial
Clean, steam, and exfoliate with a massage that is personalized for your skin type. Gentle extraction followed by a relaxing massage of face, neck, shoulders, scalp, arms, and hands, and a customized mask and moisturizer.
Deluxe Customized Facial
After a skin-type analysis, you will receive a consultation on which of following treatments will work best for you:
Vitamin C treatment
Caviar treatment
Oxygen treatment
Lighting treatment
Beneficial Back Treatment
A deep-cleansing treatment for hard-to-reach areas of the back, neck, and shoulders. Includes exfoliation, steamed towels, and a calming mask followed by a tension-relieving massage of the back, neck, shoulder, arms, and hands.
Gentleman's Facial
Detoxify and revitalize with an aggressive cleansing and exfoliation. Followed by amassage of face, neck, shoulders, arms, and hands, and a customized mask and moisturizer.
Acne Care Facial
A revitalizing skin-care treatment with deep cleansing to improve the elimination of impurities that affect oily, blemished-prone and problematic skin. Utilizes relaxing steam, gentle extractions, and a mask.
A High-Frequency treatment may be added to any signature facial for $15. This treatment helps tone skin, reduce pore size, increase collagen production & circulation, and control break-outs.
Waxing Services
Eyebrows $15
Ear $15
Nose $10
Lips $8
Chin $8
Full Face $45
Back or Chest $50 and up
Underarm $25
Arm $35
Bikini Wax $45
Brazilian Wax $65 and up
Half Leg $35
Full Leg $70
Specialty Services
Brow Tint $15
Lash Tint $20