SwingFit Golf Fitness & Performance Conditioning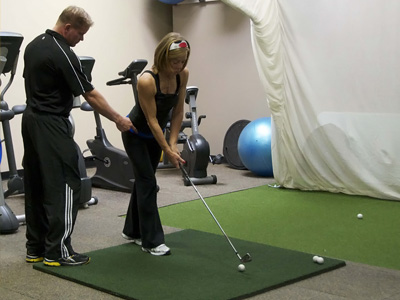 Swingfit is a golf fitness conditioning program that addresses a golfer's needs to improve on the four main physical components of golf: stability, flexibility, strength, and power. During a client's first session, they are put through a 2-hour comprehensive evaluation by our Certified CHEK Golf Biomechanic, and then based on the results, will be given a program that will address that golfer's specific needs. Periodic reassessments are performed so that progress will continue until the client's fitness goals are reached. Golfers of all ages, from the amateur to the professional level have benefited from the Swingfit program. If you are getting frustrated with your game, and feel that you have hit a roadblock, please feel free to call us for more information about the program.
Golf Training: Stability, Flexibility, Strength, and Power
Over the past 20 years there has been some major changes in the golf industry. As technology has improved and the popularity of the sport has grown, courses and consumers have made a major movement towards participating and purchasing everything from new shafts to spikeless shoes to improve their golf game. However, many golfers ignore the most important aspect of the game: the golfer's physical condition. That's where a sport-specific program like SwingFit comes in. No matter how high-tech the gear are, an athlete will never be as good as their body allows them to be. SwingFit will improve your stability, flexibility, strength, and power whether your an amatuer starting out, a golf professional, or a senior your golden years.
Golf Outings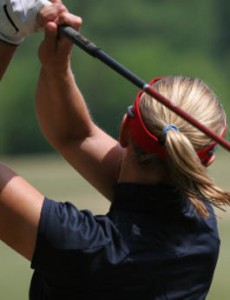 Whether you are visiting with a group of friends, or would like to reward your employees with an unique experience, Kinetix offers group golf fitness package with a personal touch. First, you will have a session with our golf teaching professional to analyze your golf swing. Secondly, you will meet with our Fitness expert to discuss what exercise program you are currently doing and what you can either add or eliminate to insure you are doing a golf specific exercise program so that you can get the most out of your body to improve your game.
Both of these sessions are video taped so you can review the findings in the pleasure of your own home and to insure you are doing your exercises using proper form. Based on the findings above you are then given a relaxing, sports oriented massage tailored to meet your individual needs.
A Private conference room and catered lunch is also available upon request.
Golf Biomechanic Specialist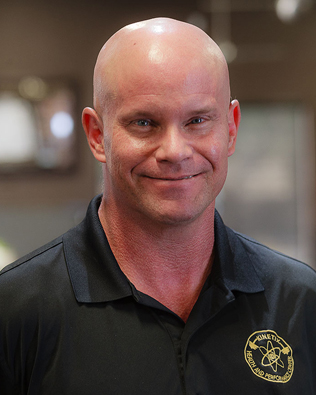 Michael K. Butler is a graduate of California State University at Long Beach. He received his Bachelor of Arts degree in Physical Education/ Athletic Training in 1991. He currently holds a license as a Physical Therapist Assistant, Certifications through the C.H.E.K Institute as a level one practitioner, Paul St Johns Neuromuscular Therapy and as a Strength and Conditioning Specialist through the National Strength and Conditioning Association. He also holds certifications in Sports Nutrition, Metabolic Typing and CPR.
Through his SwingFit program he has trained golfers both at the professional and amateur levels, and offered seminars in the prevention of golf injuries. Michael has also written weekly golf fitness articles for The Desert Sun.