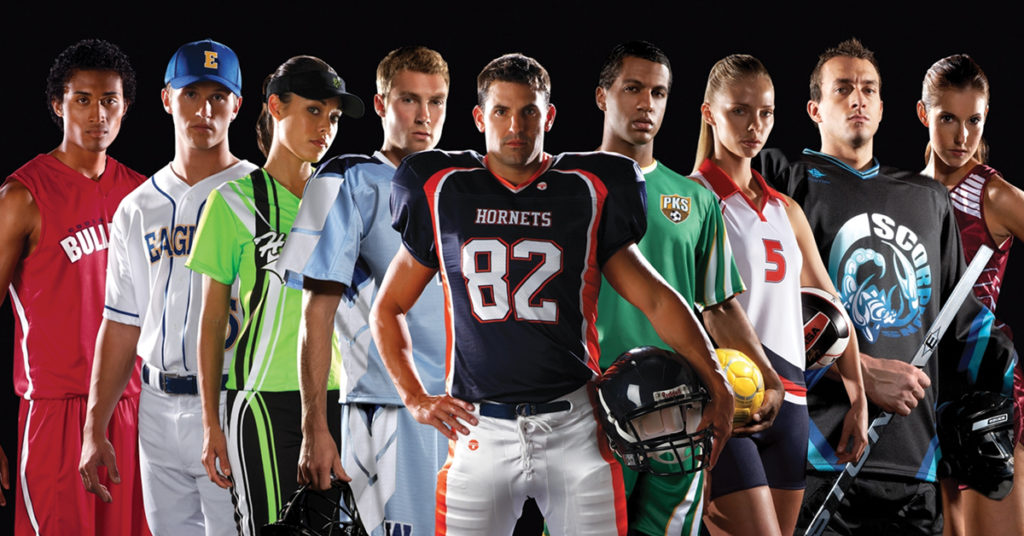 Youth Training for All Sports
At Kinetix Center, we offer sport-specific youth athletic training for ALL sports including: Football, Soccer, Baseball, Tennis, Swimming, Track & Field, and much more! We also offer youth fitness training for those who want to focus on increased health and wellness.
Get a Competitive Edge
Blow your coaches away next season with effective gains:
Increase Explosive Power
Increase Speed & Agility
Gain Confidence, and Boost Self-Esteem & Wellness
Prevent Injuries
Measurable Gains & Effective Results
With our available pre and post-training testing, you'll be able to see your progress from your training at Kinetix, set benchmarks, and realize your athletic goals. With Kinetix you get measurable gains and effective results.
Ready to take your athletic career to the next level? Call us at (760) 200-1719 for more information, or continue to explore our programs…
---
Our Youth Training Programs
Vertimax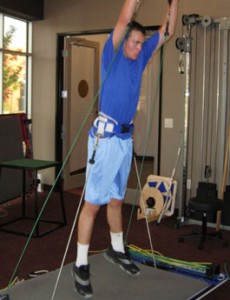 "Light-Load High-Speed" training is a MUST! It is now known to make a greater and more transferable impact on acceleration-based competitive moves than any other type of training, and Vertimax is the best Light-Load High-Speed training system ever designed! It is a necessary integral part of any functional speed program.
Vertimax is one of the world's top rated volleyball training systems for developing explosive leg power, the vertical jump and first step quickness! Using VertiMax as an integral part of your volleyball training regiment, your team's spiking, blocking and digging abilities will be elevated to new levels and that translates into more wins and a more successful volleyball program to be enjoyed by everyone (except your opponents!).
The Vertimax is the most sought after piece of athletic training equipment on the market today. Most major collegiate athletic programs as well as professional football, basketball, volleyball and track teams use the vertimax training product as part of their training regiment.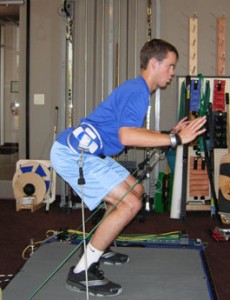 If you are looking for an advantage over your opponents and want to take your athletic skills to new heights the Vertimax is the product for you.
The UCLA Athletic program has shown studies that their athletes had improved their vertical jump by as much as 8 inches, and the broad jump by 20 inches.
Let Vertimax be a integral part of your off season conditioning . Being part of a regular plyometric program will only enhance the results.
Vertimax training can also be performed in a small group setting providing an atmosphere to improve performance
At Kinetix Health and Performance Center we have invested a great deal of research in order to provide the best training module to improve athletic performance.
As part of that module is the most popular and sought after athletic training device on the market today…The Vertimax. The Vertimax training system can improve your vertical jump, your 40 speed, as well as explosive leg power. We are commited to providing each athlete with a structured program to meet their individual needs.
---
Kinetix Strength Academy
After going through an instructional class, Kinetix has on-going circuit training classes either individually or in a small group setting. We often have teams come in and therefore keeping the group small so every participant gets the individual attention needed and all their questions answered. We create an environment that the kids feel very comfortable in and in doing so we can address all the questions they may feel leery to ask in other settings.
---
Circuit Training
Designed for beginners and will address proper form and technique. Your trainer will cover appropriate exercise progression, the benefits of free weights compared to machines and movement specific exercises.
Ages 12+
Maximum 6 in a class
1 hour sessions that meet twice a week for four weeks
Cost: $ 240.00
---
Olympic Style Weight Lifting
Appropriate Olympic lifting progressions will allow athletes to perfect form in the front and back squat and progress into the power/hang clean and the snatch/hang snatch.
Athletes will have the tools to carry over in their own gym/school environment
Ages 14+
Maximum 6 in a class
1 hour sessions that meet twice a week for four weeks.
Cost: $ 240.00
---
Weight Training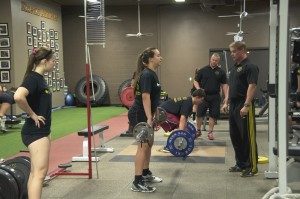 The weight training classes are taught in a small group setting. Athletes are shown how to lift properly and with good posture. A circuit of stations that include flexibility, stability, strength and power will be performed by each athlete, and weight selection will be individually addressed based on that athlete's ability level.
Power exercises like the Deadlift, power clean, front and back squat will be critiqued as these are the most widely used and misrepresented power exercises done by most athletes.
It is essential that when you are searching for a "trainer" to work with your child that they have an orthopedic/pediatric background. You can start axil loading the spine as early as 10 years old if it is done properly. What the kids learn at Kinetix will help them be stronger and will ingrain proper muscle memory that will last into adulthood.
Agenda:
Fundamentals of the proper technique
Instruction of proper lifting techniques
One-on-one instruction
Groups are limited in size to ensure that your child will be given the adequate time needed so they will feel confident the next time they enter their gym environment. We will be also be able to answer all their questions relating to other exercises, machines vs free weights, supplements (what they have heard and the truth), how to figure out their heart rate and answer any questions they may be too shy to ask.
Our class ratio is limited to 5 – 1.
Our instructors are National Certified Strength and Conditioning Specialists.
Classes: 90 minute session.
We recommend a follow-up session to be arranged so they can be monitored to stay on track and increase their weights if their form is correct.
---
Kinetix Fit Kidz
Designed for Ages 7 – 14 years old Kinetix will work with your child in various components that need to be addressed in today's youth.
Motor skill, coordination, teaching proper exercise and stretching techniques. If your child is involved in sports this will help sharpen their skill.
---
Sport Camps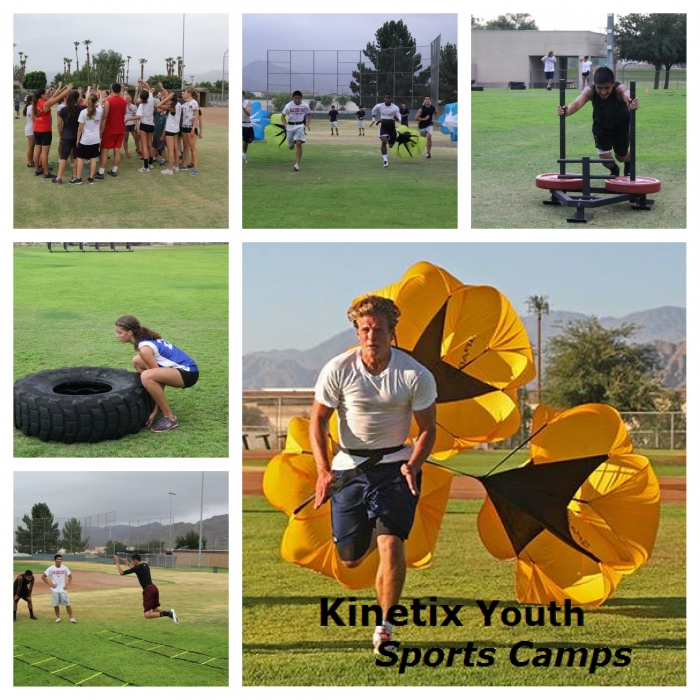 Kinetix offers sports conditioning services/camps throughout the year to improve an athlete's ability to excel to the next level of their sport. Trained by certified strength and conditioning coaches that are also SPARQ Certified, athletes have the advantage of taking their test results and viewing them on the SPARQ training website and comparing them to other athletes around the world to see where they rank. Many professional organizations use the system to gauge athletic ability and performance.
Kinetix sports conditioning camps are offered three times a year with the summer camp being the most popular.
Summer Conditioning Camp
During the summer camp, Athletes are rated and put into appropriate groups based on age and ability. Our ratio is 12:1 to ensure safety and provide instruction on proper form and technique.
Throughout the four-week camp athletes work to improve in these area and then are retested on the last day. Ages 8 years old and up are welcomed. Athletes are grouped by age, gender and athleticism.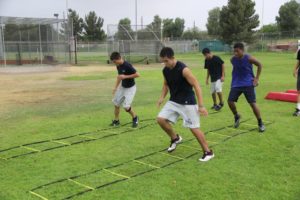 Located at LQHS 6:00 a.m. to 7:20 a.m. (your child will be on time for summer school)
Mondays and Wednesdays / June 18th to July 11th
We have three packages available which you can see and signup here:
Register for Summer Sports Camp
Team Discounts are also available
Winter Conditioning Camp
The winter camp which is held over winter break, focusing on form and execution of running, jumping, bounding, agility and speed. Located at La Quinta High School.
Ages 8 and up are welcomed
Spring Conditioning Camp
During spring break we offer speed/agility camps for both public and private schools. Athletes are shown the proper mechanics of good running form, technique and execution. Participants are put through various speed and agility drills to improve their athletic performance. Ages 8 and up welcomed.
Fitness Camp
Our fitness camp offers participants a unique opportunity to learn strategies and perform corrective/ dynamic exercises to lose weight through a team approach. As part of the program inspirational speakers will present information regarding nutrition and lifestyle strategies that will inspire each participant to pursue a healthier approach in the choices that they make.
Forms