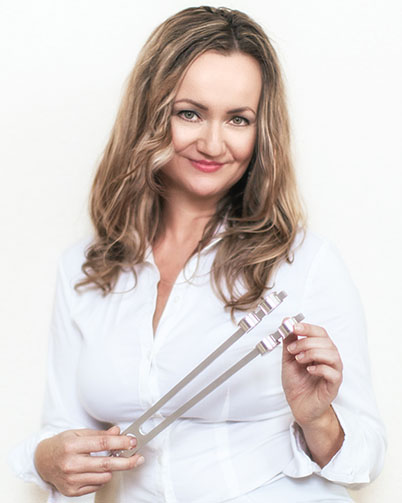 Barbra Angel is world renown naturopath – holistic doctor, creator of Cellular Resonance Therapy (CRT), certified hypnotist, yoga instructor, author, composer/singer, founder of Tune&Heal™ (USA) and THE SOUND ACADEMY™ (Europe). She is the winner of the Hollywood International Wind Film Festival, Christian Film Festival (CFF), International Songwriting Competition, Humanitarian Awards, En Sound Music Awards and more.
She holds a PH.D. in Naturopathy and two MA in Composition/Arrangement and Vocalism. She is a professional composer, violist, singer and music producer. She has published many CDs and books in English, Polish, German, Czech and Slovak. For the last eighteen years she has specifically focused on her Tune&Heal mission through:

1. Certified training courses of Cell Resonance Therapy method which come with European Accreditation
2. Therapy sessions of Cell Resonance Therapy (CRT) including healing power of TCM *Sound Acupuncture or *Sound Reflexology, BioResonance Scan & Therapy or Hypnosis
3. Tune & Heal Yoga sessions including Yoga Face, Qi-gong, Healing Accupressure points and healing music combined with regular yoga asanas
4. Resonance Meditation seminars
5. Speak Up – Heal Your Voice workshops
6. Tune & Heal – lectures and concerts
7. Healing Music Ministry and active support of The Health Department within The Heartland, a non-profit organization in California.
Her mission is to Tune and Heal people through RESONANCE (frequencies) as the mechanism for healing.
Tune&Heal™ is a natural solution for healing which brings light and healthy vibrations into the three levels of being: Body, Mind and Spirit. Together with power of the V Elements Theory, sound, color, movement, energy centers and the five senses of human being, organs and emotions can be restored to their proper, healthy frequency.