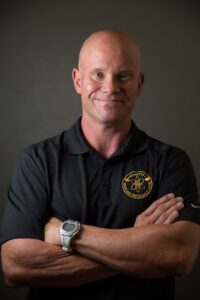 B.A.; P.T.A.; CSCS*D; RSCC*D; NMT / Owner & Director Of Sports Performance
Michael is a graduate of California State university at Long Beach where he received his Bachelors of Arts degree in Physical Education/Athletic Training in 1991. He went on to become a state licensed Physical Therapist Assistant and a nationally credentialed and highly rewarded Certified Strength and Conditioning coach.
Michael holds multiple National certifications of excellence, just recently gained the highest honors in his field as given Emeritus status as a strength coach through the NSCA. He was listed in the top 125 strength coaches in the world to hold this distinction status.
Michael has devoted the past 30 years to his field and has a passion with healing as well. He holds a masters level status as an Active Release Therapist, through his work he believes God gave him the healing touch as many as 90 Percent of his clients are living life without the pain and enjoying life to its fullest.
Michael has been trained by some of the finest physical therapists and strength coaches from around the world. He surrounds himself with very skilled and talented practitioners and communicates with problem solvers and movers within the field. His tireless energy evokes a positive mindset to health and exudes excellence from his clients.
Michael is also a published author of three books, has written over 500 articles regarding health and wellness, is a public speaker as he motivates and educates people from all over the world. Michael is also a mentor to well over 500 athletes as he continues to give back to the community that has given him so much.
Michael trains both the amateur and professional athlete, as many as 80 have gone on to get scholarships in their devoted sport. Michaels disciplined approach has brought him champion caliber boxers, MMA fighters and professional football, tennis and baseball players.
In the near future Michael and his wife Barbra will travel to Europe and begin their seminar journey together educating the world on their healing methods
In his limited spare time Michael enjoys cycling as he is preparing for a 920 mile journey through the west in 2022 raising money for St Jude's Research Hospital. He also enjoys spending quality time with his new bride Barbra and their cat Felix.